Time: 40 minutes
Yield: 4-6 servings
Ingredients:
Chicken breasts (4)
Neal Brothers Smoky BBQ Kettle Cooked Chips (1 Bag)
1 cup rice flour (or flour of choice)
2 eggs
Vegetable oil, for shallow frying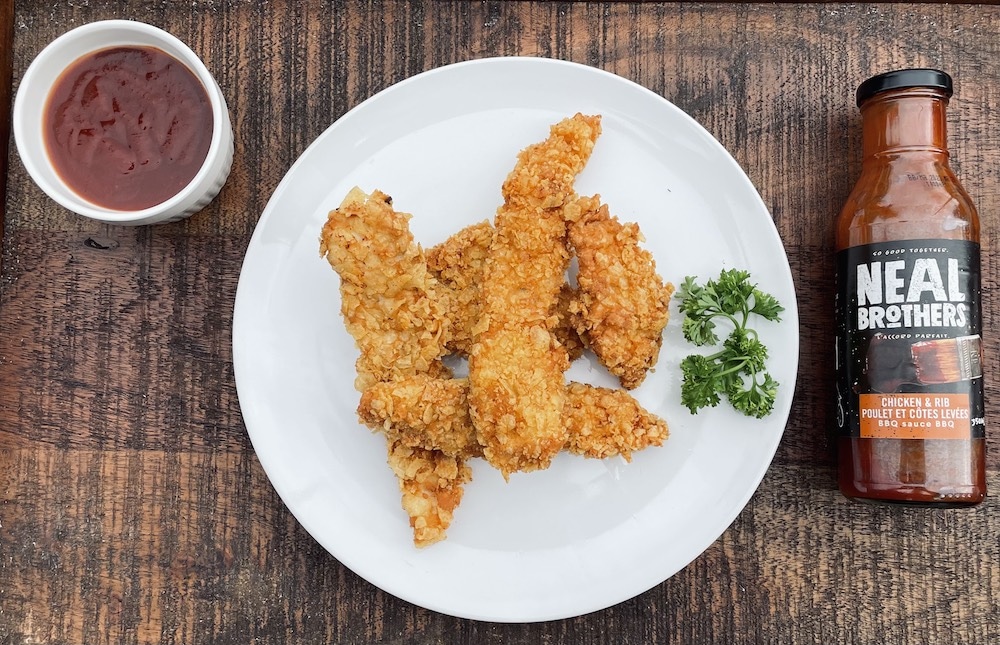 Directions:
Cut chicken breasts into strips.
Pour flour on a plate. Crack and beat the eggs in a small bowl.
Open the bag of Neal Brothers Kettle Chips, use a rolling pin to crush the chips into small pieces and crumbs. Pour the chip crumbs onto a plate.
Prepare the chicken: one at a time, coat the chicken strips in flour, then dip the flour coated chicken in the beaten egg, lastly, cover the chicken tender in chip crumbs.
Pour vegetable oil (about an inch deep) into a frying pan. Heat oil on medium heat until small bubbles start to form in the oil.
Carefully place the prepared chicken tenders in the oil. Larger bubbles will begin to appear. Monitor the chicken as it fries in the pan. Flip the chicken tenders after a few minutes to crisp both sides to a desired golden-brown appearance. Ensure the chicken is fully cooked once removed from the oil.
Dunk your delicious BBQ Style Crispy Chicken Tenders in a Neal Brothers BBQ Sauce.